Are you thinking about coming do Krakow in summer? Check out our suggestions below.
Regardless of whether you plan to relax or explore, whether for a long stay or just a nigh we are sure that our hotel will be a good choice.​
SPORTS AND ENTERTAINMENT
Right next to the Hotel there is one of the largest indoor Water Parks in Poland. A perfect place for kids and adults, where everyone will find something for themselves.
In the swimming pool hall, you will find plenty of attractions. Outdoor and indoor slides of various difficulty levels, a wild river, swimming tracks, climbing walls, a place to play water polo, basketball and volleyball are waiting for you here. Prefer less active? There are also hydromassages and water jets. And for the youngest there is a paddling pool with a pirate island.
The Saunarium in the Water Park covers an area of 400 m2. There are classic dry (Finnish) saunas, a spectacular sauna where sauna ceremonies with sauna masters take place, a Russian banya, a sea bath, a herbal sauna, a fire sauna and an infrared salt sauna that functions as a salt cave. Of course, there is also a relaxation area with a graduation tower. Strengthen your body, gain vitality, rest!
Between the Hotel and the Water Park, a multifunctional, recreational and leisure outdoor zone - the Park Station - has been arranged.
At the Park Station, both leisure enthusiasts will find plenty of space for themselves, as well as those who love outdoor activities.
Here you will find a place to play basketball, volleyball, badminton, and balls and rackets can be rented at the hotel reception. We have prepared playgrounds for kids.
By purchasing the offer bellow you will receive unlimited access to the Park Station.
Park Station is open in good weather, from 09:00 to 22:00.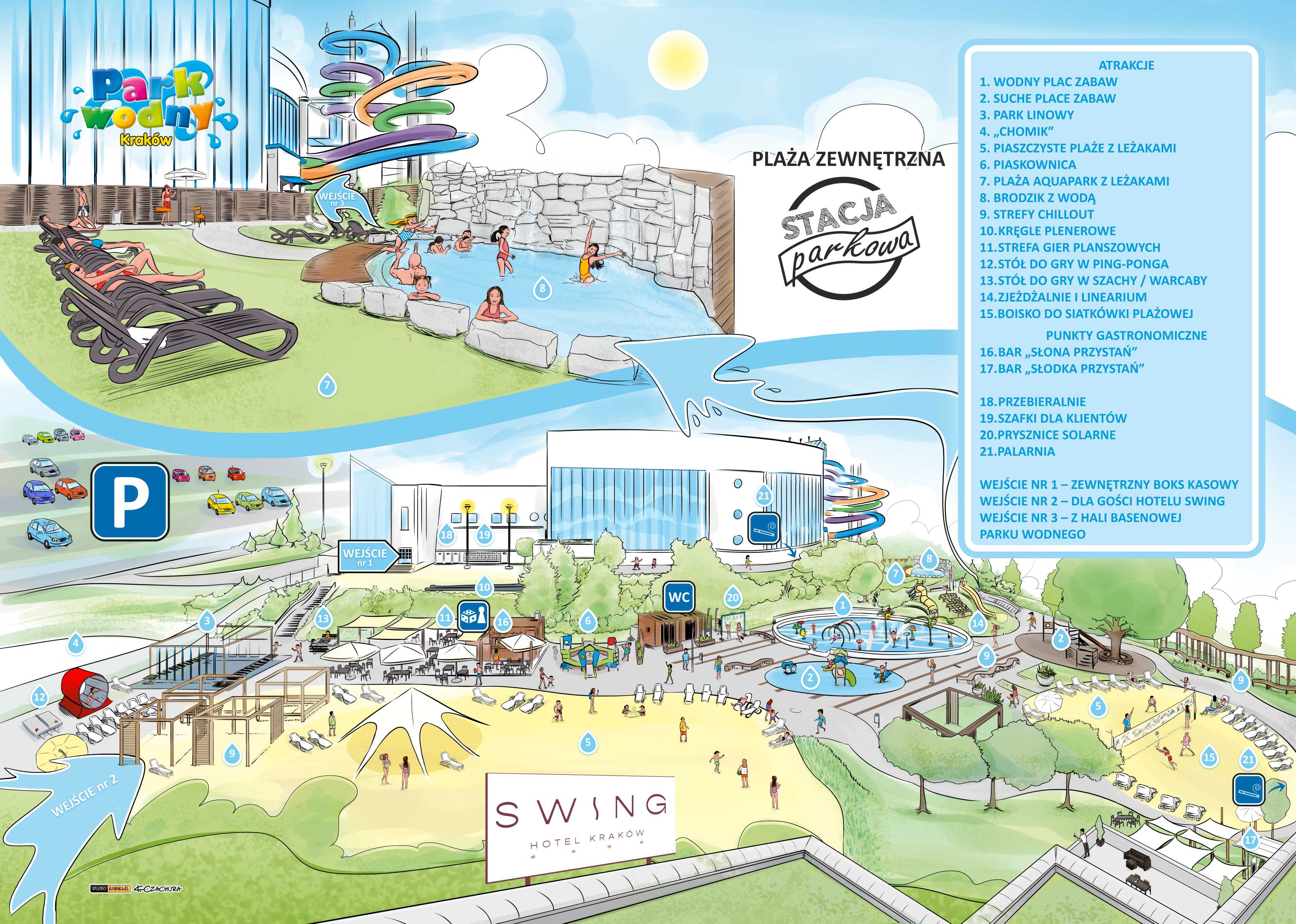 Do you like getting tired? Then FIT Park, located on the first floor of the Water Park, is the place for you. 1000 m2 of space, various equipment, large training structures, spacious rooms and locker rooms, experienced trainers - all in one place. Drop by for individual training or sign up for group classes - the schedule of available classes can be found on the FIT Park website. Group activities for children are also available!
In FIT Park you can also take advantage of personal training. However, remember that you need to make an appointment with overtaking.
ATTRACTIONS AND LOCATION
Krakow is a place worth visiting with children. Here, history and legends intertwine with modern attractions not only for adults but also for children.
We suggest what is worth seeing while in Krakow:
Wawel – a place where not only kings lived, but also the Dragon, which still breathes fire.
Krakow's Market Square, where Sukiennice, Town Hall and St. Mary's Basilica tower overhead, and you can visit a modern museum in the basement. Be sure to listen to the bugle call and tell your children the legend of the heroic trumpeter!
While in Krakow, try an obwarzanek, and preferably one baked by yourself. You can do it at the Obwarzanek Living Museum
Krakow's Kazimierz and Podgórze - districts related to Jewish history. Maybe you can find the places where "Schindler's List" was filmed?
A trip to Kościuszko Mound - the view of Krakow from the Mound will remain in your memory for a long time.
ZOO
Attractions dedicated to children:
Lem's Garden of Experiences
Blockland, the Labyrinth of Mirrors
Trampoline Park
Candy factory, Chocolate factory
Museum of illusions
Villages of the world – a global education park
Outside Krakow:
Energylandia (50 km)
Zatorland (50km)
Miniature Park (55 km)
Salt Mine in Bochnia - 42 km
Amusement Park - Ogrodzieniec (59 km)
We encourage you to take a look at the website Kids in Krakow where you will find a lot of events and attractions for kids! Try the game "Discover Krakow" - we are convinced that children will have fun and many adults will be surprised.
We accept a large family card - book directly at the hotel or via the website www.hotelswing.pl and you will receive a 10% discount on ALL services.
Are you traveling by car? Don't worry, you will have a place to park with us.
Below you will find our accommodation suggestions.
If you have any questions or the selected offer is not available on the date you choose - call us on +12 311 11 11, we will be happy to help!
See you in Cracow